According to the Associated Press news agency, the United States New York State stores appear "flavored marijuana" products, these drugs use cartoon-style packaging, but also added fruit, dessert flavoring. Experts and the public generally believe that this move is to attract children to try marijuana.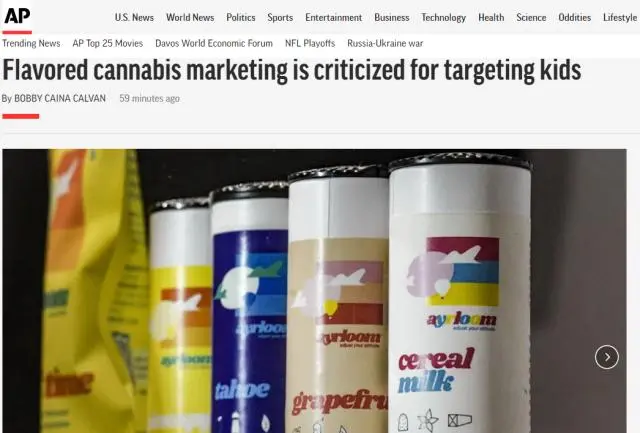 The report mentioned that most of these marijuana products are added to the original leaves of marijuana, advertising slogans such as "crazy mango", "screaming lemon" and "peach dream", and there are even businesses developed With flavors such as chocolate and cheese, the packaging and advertising slogans make the drugs look like ordinary snacks and are likely to entice children to smoke them.
In March 2021, New York State legalized recreational marijuana, and 21 U.S. states now allow marijuana for non-medical use to varying degrees. Under New York state law, minors in possession of marijuana face a civil fine of no more than $50, and licensed retailers who sell marijuana to minors face fines and license revocation, but no jail time.
Although the U.S. legally prohibits "the use of marijuana in any manner that attracts children or other minors," the New York State Office of Marijuana Regulation has not formally adopted regulations on labeling, packaging and advertising, which has allowed many marijuana businesses to take advantage of this loophole by painting food, candy and soda on the packaging of marijuana products to make the products The study was released earlier this month.
A study released earlier this month showed a sharp rise in poisonings among children, especially toddlers, who accidentally ate snacks containing marijuana. This data also has experts very concerned about the risk that marijuana products may appeal to children.

Urgent need for change: promoting child-safe packaging to protect children from harm
What is child-safe packaging and its importance?
Child-safe packaging is a type of packaging designed to be difficult for children to open, thereby preventing them from accessing potentially hazardous items. It is an important component of product safety standards and is used to protect children from potential harm caused by ingestion or exposure to hazardous substances. Child-resistant packaging has been shown to be effective in reducing the number of accidental poisonings in children and has become a key component in ensuring the safety of products used by children.
How poorly designed packaging can harm children
Improperly designed packaging can have serious consequences for children. From choking hazards to potential poisoning, incorrect product hazard warning labels or package design safety can lead to a range of health and safety risks. That's why it's so important to ensure that all packaging is designed with children in mind and comes with a clear hazard warning label design that is easy to understand and follow. This will help protect children from potential harm and ensure they remain safe when using the product.
The Impact of Government Regulations and Corporate Policies on Child-Safe Packaging
Government regulations and company policies can have a significant impact on the safety of child-proof packaging. The Consumer Product Safety Commission (CPSC) has established strict regulations to ensure that all products intended for use by children are properly packaged in child-resistant packaging. Companies must also comply with corporate social responsibility policies, which often require them to take additional steps to ensure the safety of their products, including the use of child-resistant packaging. By complying with these regulations and policies, companies can help protect children from potential harm caused by poor design or improper packaging.
Challenges and opportunities in promoting child-safe packaging globally
As the world becomes increasingly interconnected, the challenge of promoting safe packaging for children on a global scale becomes increasingly important. With the global regulations of the Safe Packaging Initiative (e.g. REACH regulation in the EU) and sustainable packaging solutions for children's products, there is an urgent need to ensure that all countries take appropriate measures to protect children from harmful substances.
At the same time, there are many opportunities in this area. By promoting child-safe packaging globally, companies can demonstrate their commitment to social responsibility and environmental protection. This can help them build trust with their customers and increase their brand loyalty. In addition, companies can use this opportunity to develop innovative solutions that meet both safety and sustainability standards and are cost-effective.