Child resistant packaging is becoming the norm in the U.S. as the market for child resistant packaging 2022 is expected to grow by $1.2 billion by 2022.
Child resistant packaging is a product that has been designed to prevent children from being able to open it without an adult's assistance. It can be used on any type of product, such as medicines and household cleaners, and is especially beneficial for products that are toxic or poisonous if ingested or inhaled by a child.
The recession proof investment opportunity in this market lies with manufacturers of these packages who could use this opportunity to increase their production capacity, which would allow them to take advantage of increased demand when the economy recovers from recession.
Let's review the famous child resistant packaging companies in 2022.
420 Packaging
420-packaging.com is the first choice of 420 wholesale supplies. They are an online paper packaging shopping website, which can provide all your 420 packaging and pharmacy needs, and adopt factory direct pricing. With a rich supply of products, you can find almost everything you need here, such as roll paper and paper cylinders, plastic containers and vials, glass storage tanks, drug outlet pockets, RX labels and filling machines.
This family owned and operated company has more than 30 years of container and packaging experience, and has a thorough and proud knowledge of the packaging industry, which enables us to sell at the lowest wholesale price while providing the best quality packaging products to the market. As this fast-growing industry continues to grow exponentially, we have been involved from the beginning and will be loyal to our customers. We always strive to put customers first, listen to their specific needs and wishes, and provide the best care and customer support.
During the whole exciting and incredible journey, 420 packaging Com has been expanding exponentially, supplying pharmacies with all industry standard trends and products; We have squeezetops made in California, USA ® Plastic containers for child safety. We constantly cultivate new products and provide you with the best products in the industry.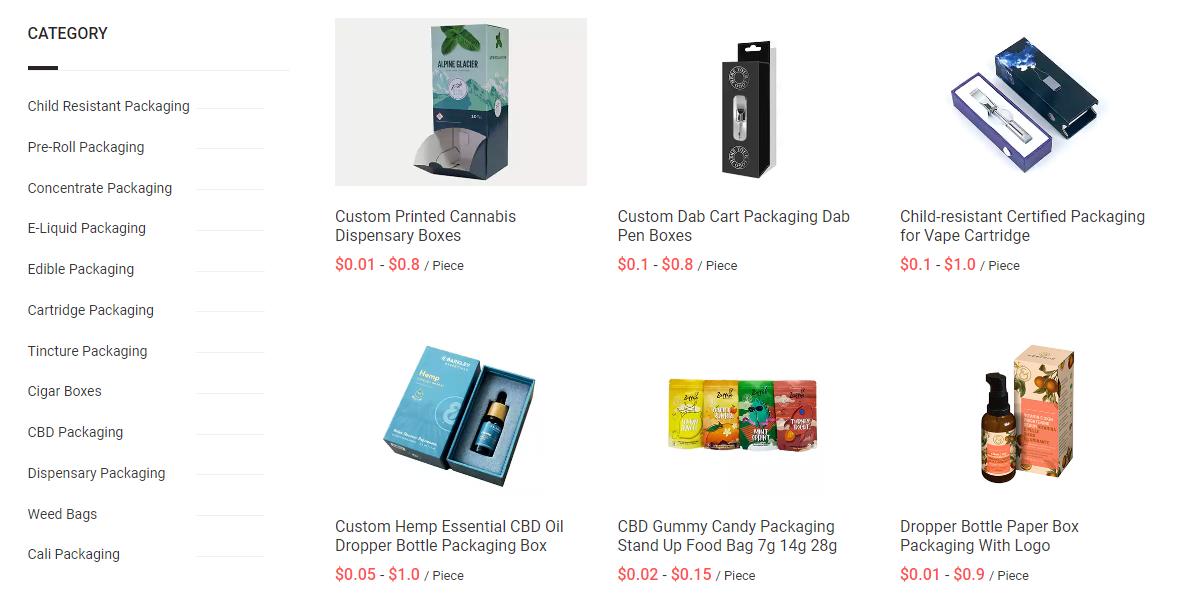 Marijuana Packaging
Marijuana packaging is the No. 1 leading supplier of cannabis packaging and tobacco store supplies. We provide a variety of packaging solutions for fried dough twist, food, concentrate, preroll, etc. Since 2011, they have become the most trusted online wholesale supplier in the cannabis industry.
If you want to make your brand stand out, marijuana packaging's experienced brand promotion team is ready to help you. They have cooperated with many famous people in the industry, and their professional designers will surely be able to turn your vision into reality. They understand the cannabis market and can help you formulate brand strategies to help you stand out from the competition.
Hemp packaging offers a variety of fully compliant packaging products to help your business survive when regulators knock on the door. From child proof packaging to tamper proof packaging, they really have everything. Their products are designed to meet the most stringent state regulations, so you can ensure that your business complies with all packaging laws. With their products, you can rest easy because you know that your customers are safe and your business is protected.
In addition to the dominance of cannabis packaging as a leader in cannabis packaging, they also provide wholesale tobacco store supplies. From glass tubes and cigarette guns to paper rolls, blunt object packaging, lighters, grinders and so on, they can meet your needs. Whether you're just starting or looking to expand your product, cannabis packaging is a one-stop shop for all your cigarette shop needs.
As industry leaders, they are also members of the national cannabis Industry Association. They are concerned about promoting the responsible growth of the legal cannabis industry through legislation, bank access, business protection, bans and fair tax policies.
If you are looking for affordable high-quality cannabis packaging, marijuana packaging is your choice.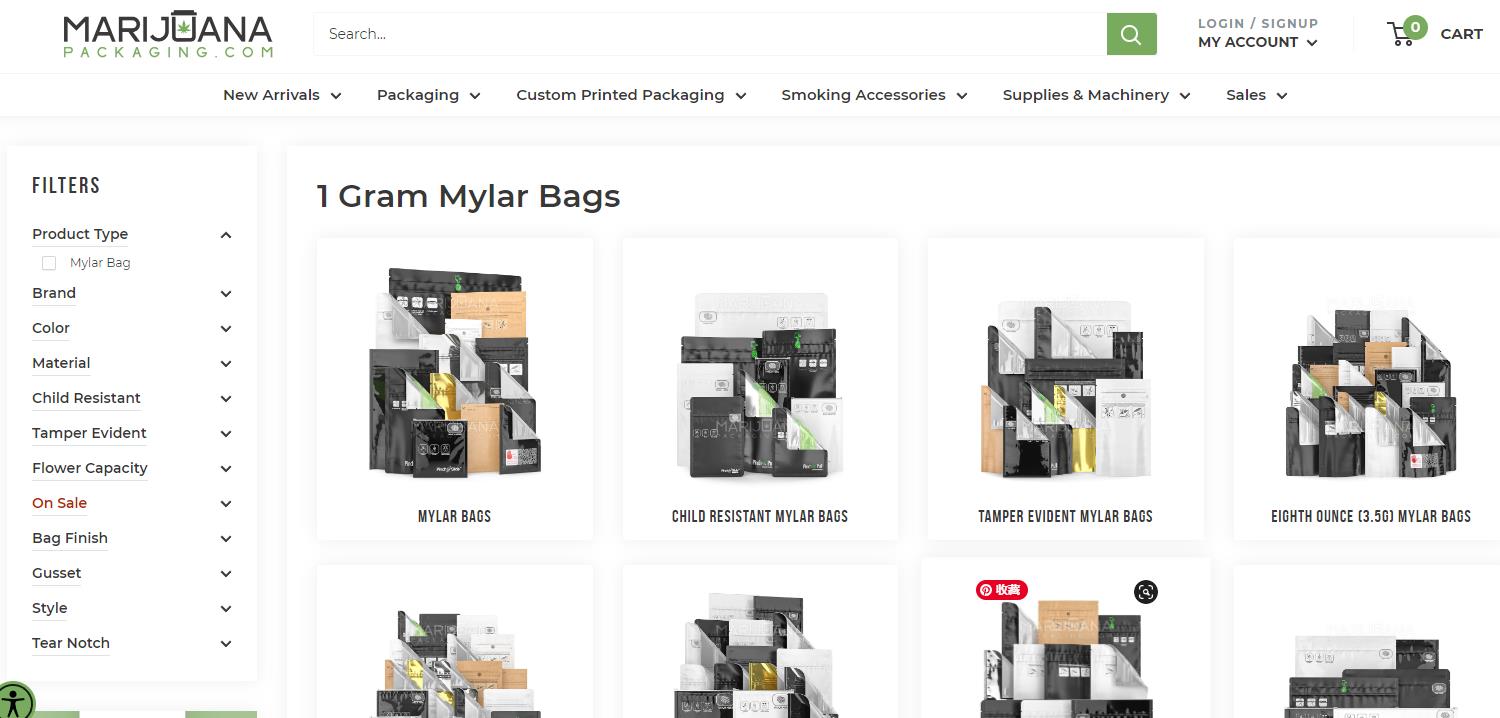 ePac
ePac flexible packaging is based on the premise that emerging digital technologies will significantly subvert the service and manufacturing mode that has served the flexible packaging industry for decades. Epac was founded in 2016. Its mission is to provide services to small and medium-sized enterprises across the United States. It is technology-oriented and aims to provide our customers with a fast and easy way to buy customized flexible packaging.
ePac is the first supplier in North America based entirely on the latest wide format digital printing technology - HP indigo 20000, providing competitive price orders for medium and short editions and a turnaround time of 5-15 working days. Our manufacturing platform has been optimized for the following aspects: Epac provides industry-leading customer service, provides true high-definition customized printing, has the ability to transform images and eliminate plate costs, while enabling customers to print on demand and avoid inventory and obsolete costs.
ePac currently has offices in the United States, Canada and the United Kingdom, and is expanding in Indonesia and other regions.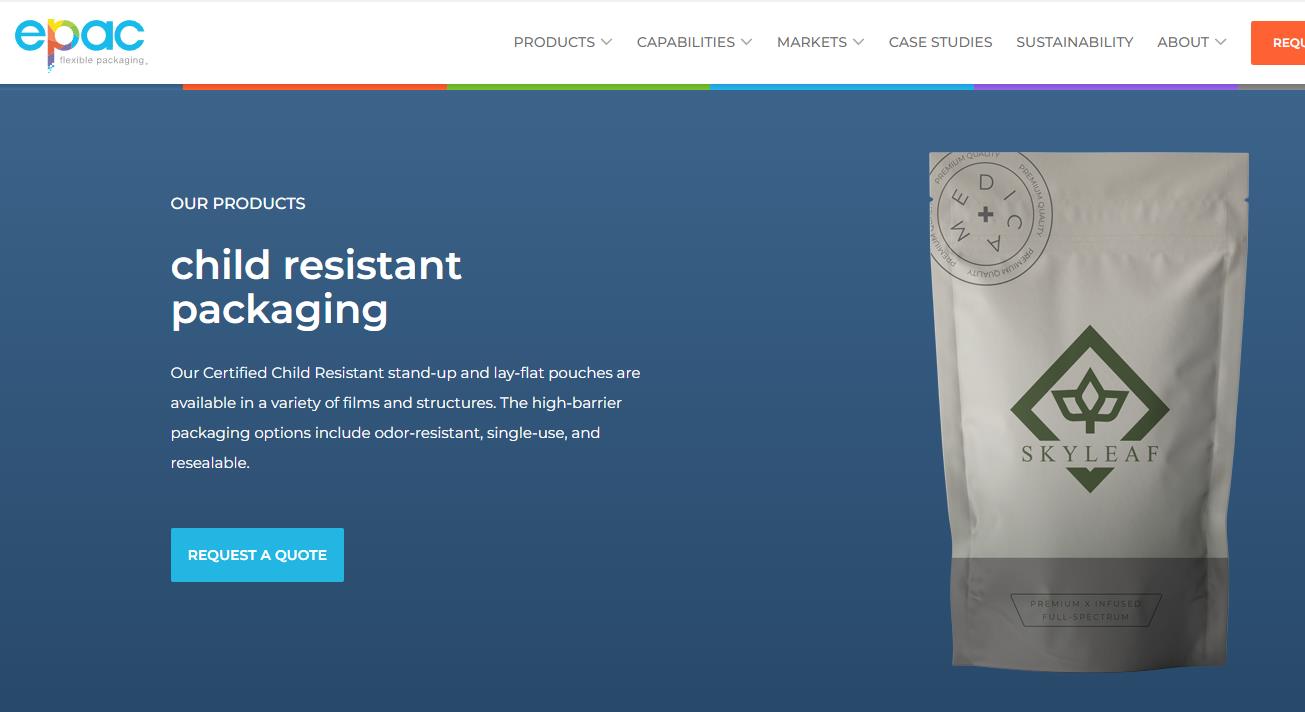 AssurPack
Nancy Warner founded AssurPack®, Bring pharmaceutical grade packaging into the cannabis industry. Since 2014, she and her team have worked with hundreds of customers to ensure customer safety while building the brand.
AssurPack believes that safety and sustainability are key to the long-term success of the cannabis industry - the pharmaceutical industry's leading technology can best achieve these goals. The AssurPack team combines more than 100 years of drug packaging experience to help customers cope with the complexity of regulations without violating compliance or causing excessive impact on the environment.
When you choose AssurPack to meet your cannabis packaging needs, you will be a successful partner. AssurPack evaluates your products to understand your product protection needs and state regulations. Then, the packaging engineer selects a customized or off the shelf solution that suits your goals. Finally, assurpack works with you to achieve your brand and sustainability goals.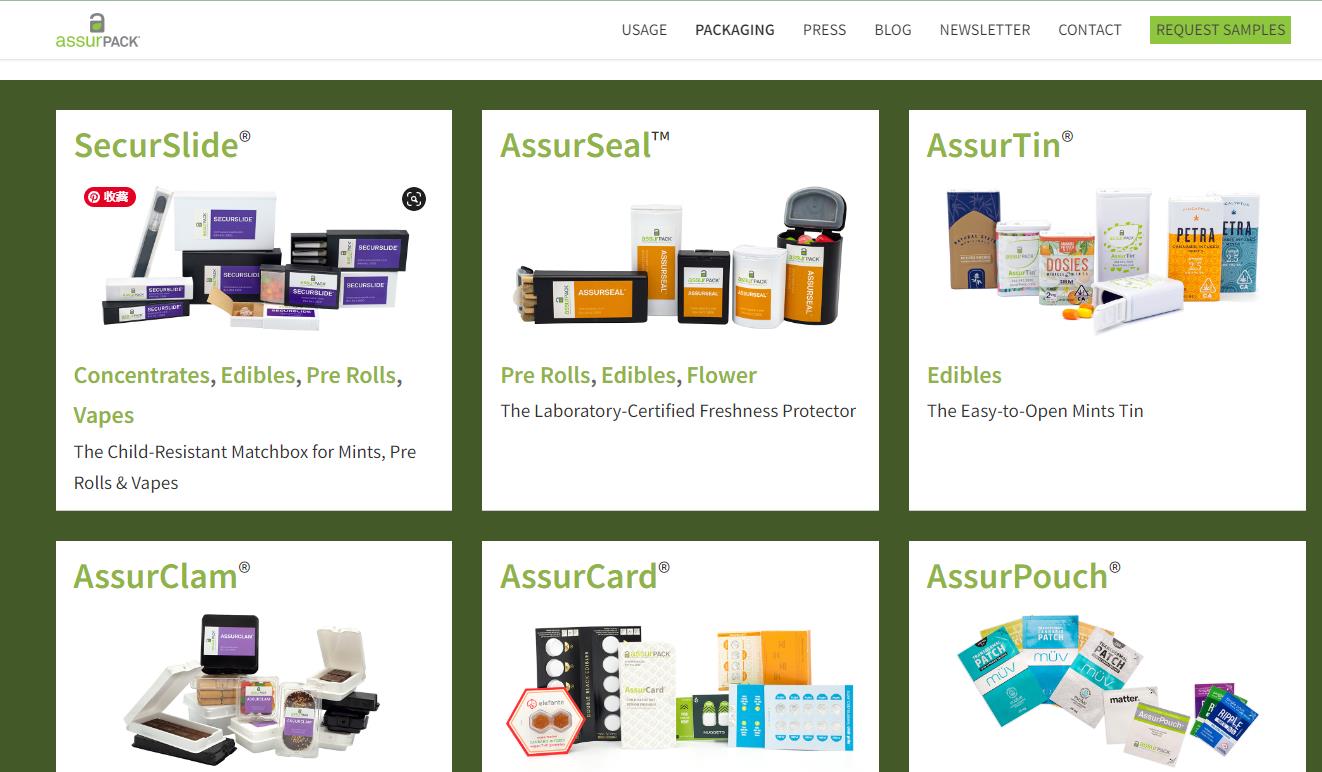 Dymapak
Dymapak was founded with a high morale and a bold goal: to develop excellent solutions to further improve the safety of medicines, vitamins, detergents and detergents, as well as many other common household products.
Our dedication to secure storage innovation has made great progress in many industries, and finally led us to become dymapak, a comprehensive supplier of drug safety packaging.
Every idea begins with a problem. In March 2009, our founder was diagnosed with epilepsy. He refocused on reducing triggers such as stress and lack of sleep, and tried to find a perfect fit. However, due to the widespread attention and decriminalization of the American media, the medicinal value of cannabis has become the focus of attention. Why not try it? Sure enough, it worked.
Still, there are two big problems - marijuana is illegal in our state, and friends, family and neighbors do not like this unique stench, which permeates every container and room in the home or office.
That's it - they knew that deodorization solutions were necessary and started the dymapak revolution.
Eight years later, we have mastered first-class production and directly cooperated with pharmacies, processors, manufacturers and growers to provide the most effective, durable and safe storage bags, whose price, design and function can meet the needs of today's booming industry
They believe in the medicinal value of cannabis, which can alleviate the symptoms and side effects of some of the world's most serious diseases and treatments. At dymapak, our mission is to ensure that all patients and consumers who choose to use marijuana should be able to use marijuana politely and cautiously, and not be at risk of public scrutiny. Maybe our story started dymapak, but the solution is universal.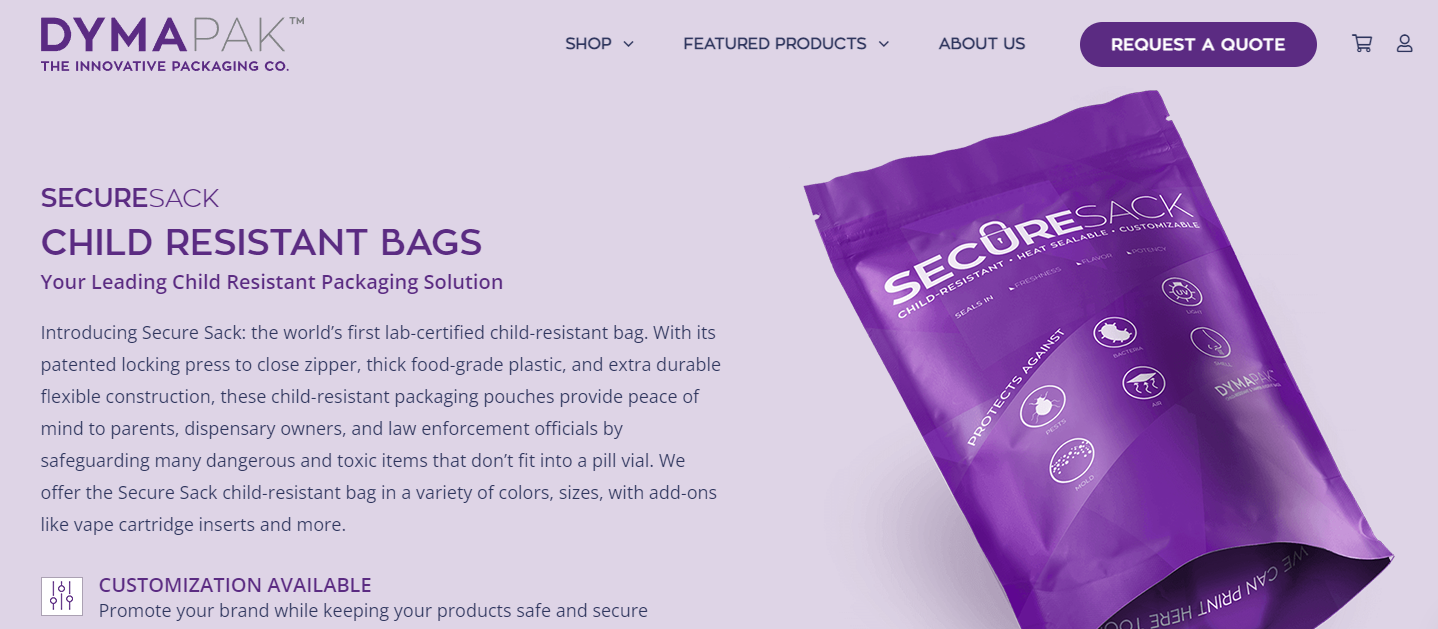 Cannaline
Cannaline custom cannabis packaging combines years of industry experience, professional customer service representatives and a complete internal creative design team to meet all your requirements for cannabis and CBD packaging.
They provide inventory and customized cannabis packaging solutions designed to meet regulatory requirements, improve sustainability and enhance the aesthetics of your cannabis or CBD brand to match your high-quality products and increase your sales.
Cannaline offers the following products:
Glass hemp pot
Child proof tank
Polyester film odor proof bag
Concentration vessel
Prerolled pipe
Dropper bottle
Custom pharmacy packaging
Compliance approved packaging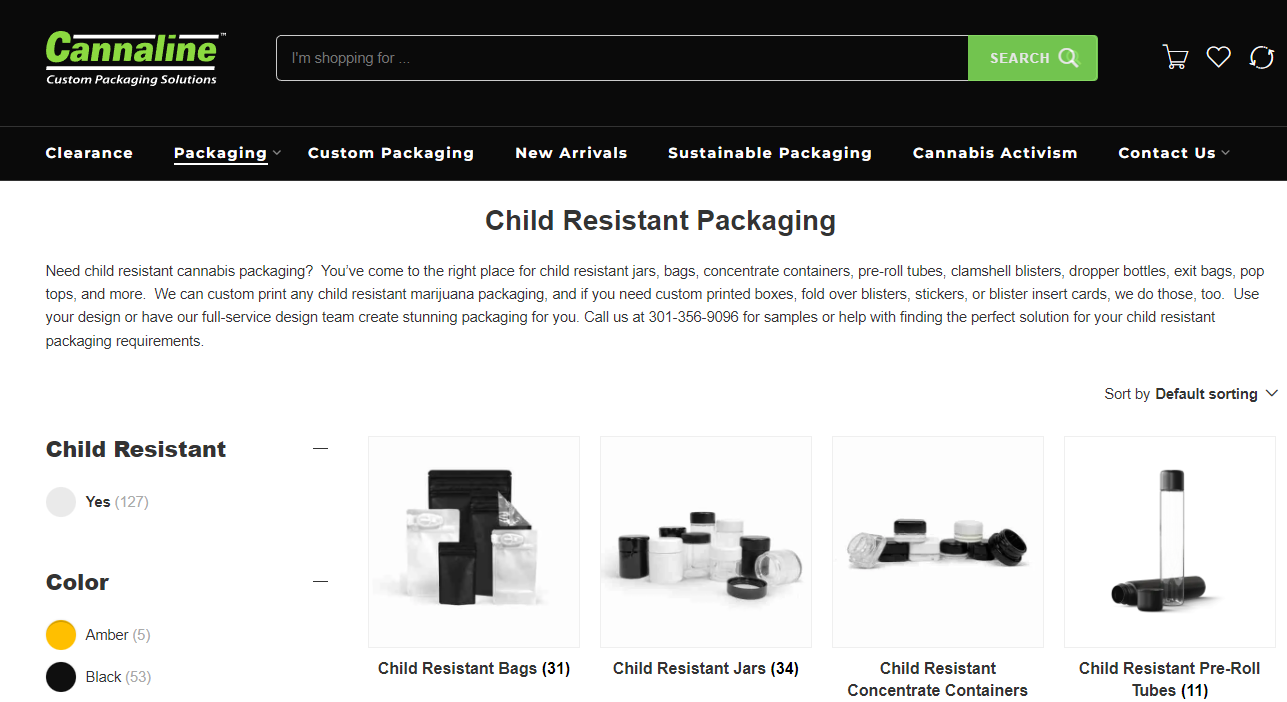 SKS
SKS is a supplier, consultant and designer of plastic bottles, glass bottles, plastic cans, glass cans, metal containers and bottle caps, which can meet your packaging needs. Their online selection of containers and caps is wide and reasonable, so you can get the best product selection at the most favorable price.
SKS provides more than 6000 containers and bottle caps online, including blue, amber and transparent glass bottles, green, amber and natural plastic bottles and cans. Each container has a variety of sealing styles and colors to choose from. We also have a large selection of metal cans with solid top, transparent top or spiral top. We serve customers around the world and are proud to work with large and small businesses. We are able to serve individuals and artisans through our small packaging, and serve large customers through our bulk wholesale packaging and quantity discounts. Sks also provides other services, such as decoration, custom mold design and production. You can choose from our already extensive online bottle and can series, or if your quantity is qualified, you can start a custom container mold to transform your original product from conception to creation.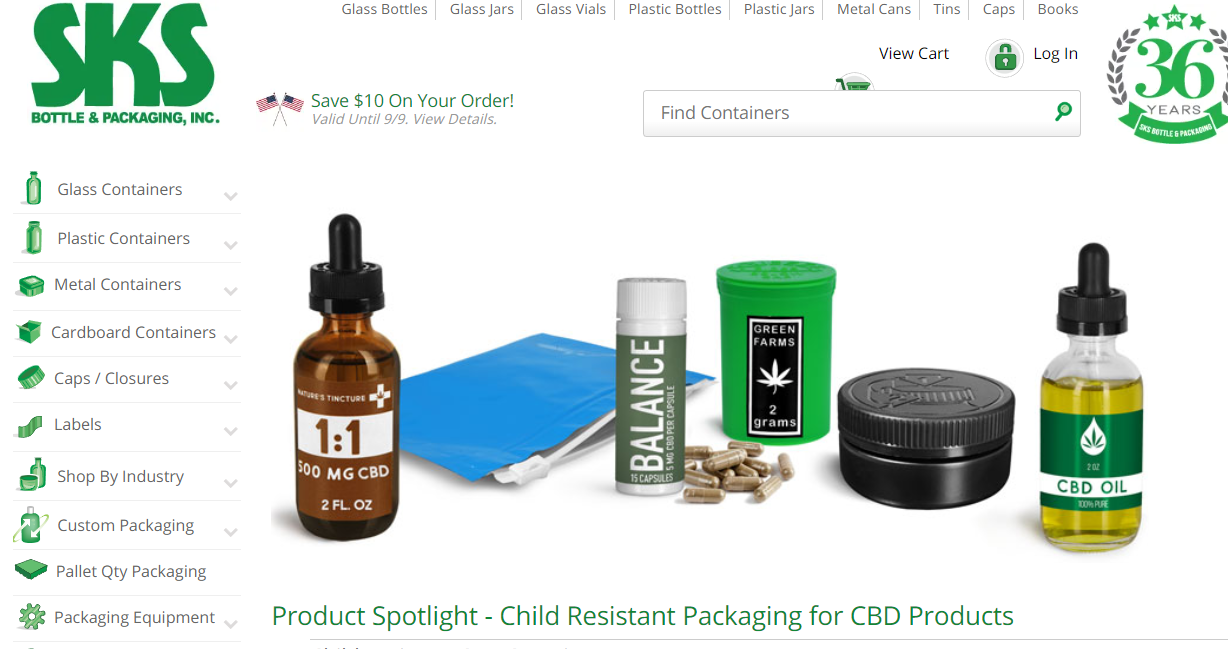 CarePac
Based in California, CarePac focuses exclusively on flexible barrier packaging.
CarePac offer deeper knowledge, better product selection and higher quality service.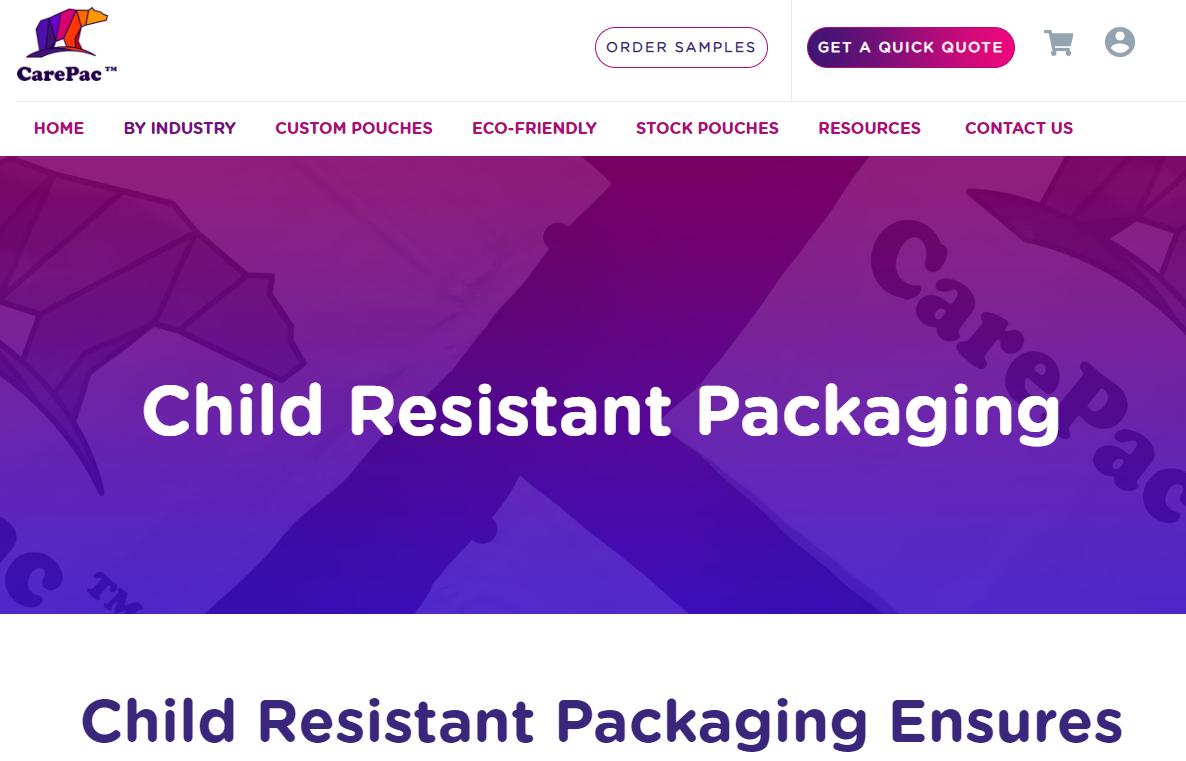 Studio On Fire
Over the past 20 years, Studio On Fire has been famous for its unparalleled impression based printing technology, high-quality packaging solutions and insight into design. They are now bringing award-winning design and printing capabilities to the children's safety market, focusing on premium cannabis brands.
Since the beginning of 2020, Studio On Fire has been developing its own certified child safety packaging line, called process lock box. Unlike other products on the market, it focuses on sustainability without sacrificing Aesthetics - making it an ideal solution for premium or luxury cannabis brands that need child proof packaging.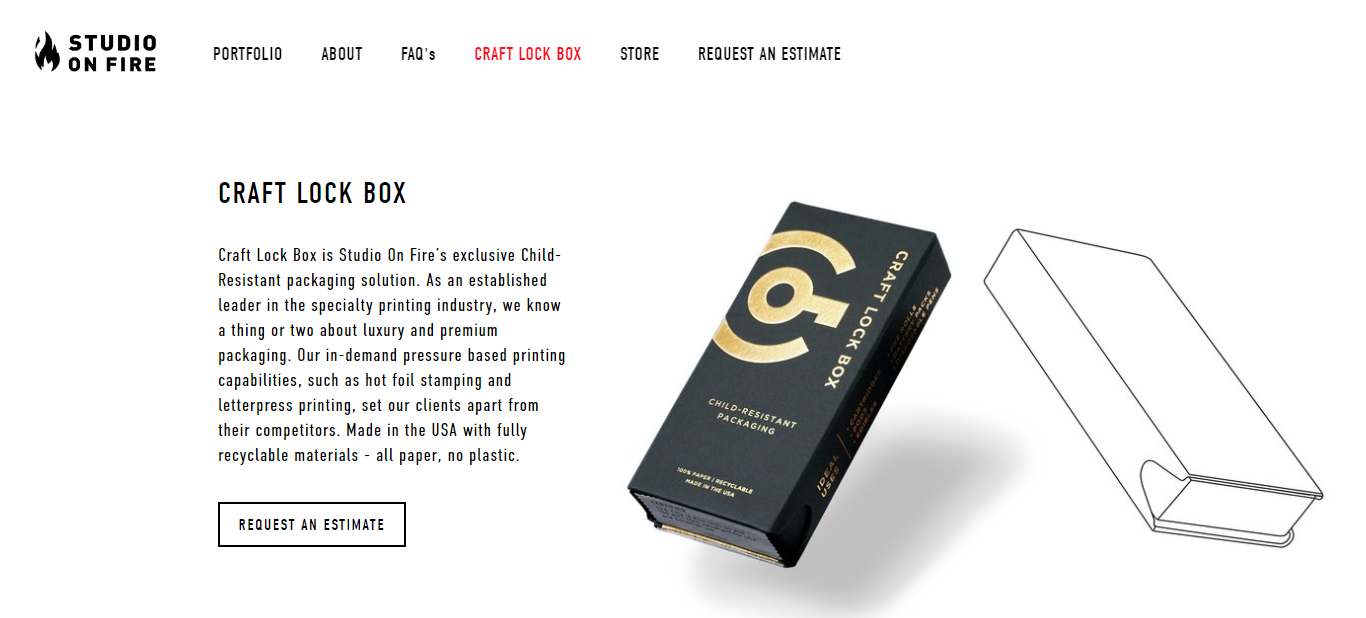 Half Price Packaging
Half Price Packaging started its business in 2017 and has become a trend leader and the most popular company in the packaging industry within five years. We are not ordinary companies, and we are part of a large network including other famous subsidiaries, including CBD box factory, SVG (Silicon Valley graphics and logo) printing, softcopy and silicon networks.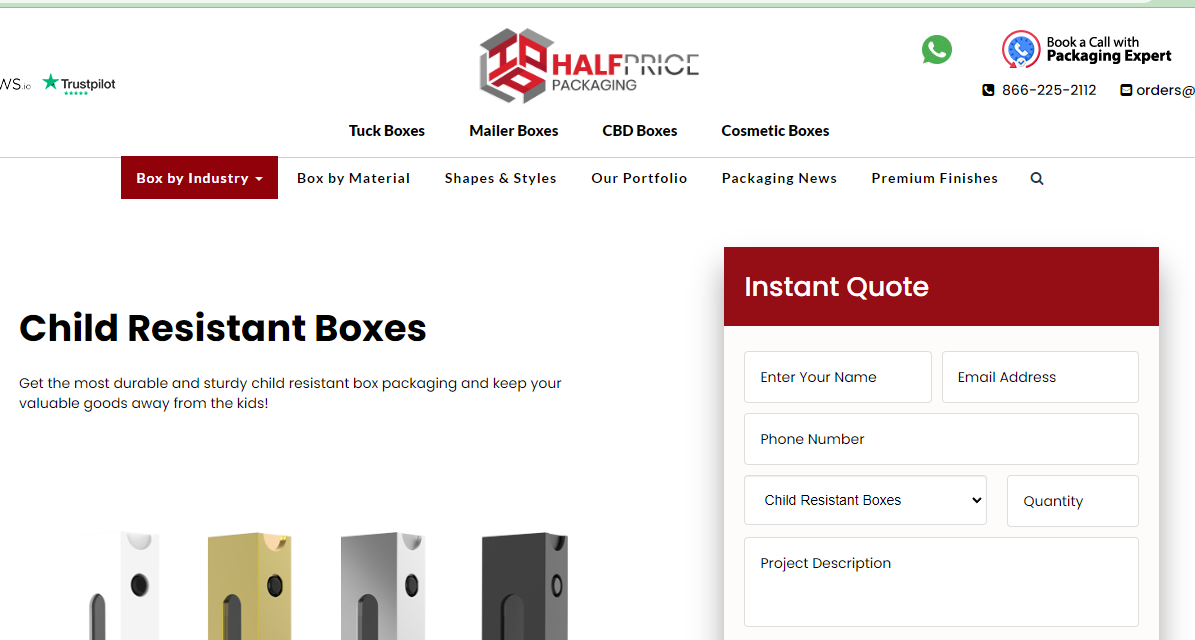 Happy Heat
Happy Heat helps develop and manufacture the most unique, advanced and comprehensive coolest electronic products, ink cartridges
Vaporizers, pop / POS displays, packaging (child protection and auxiliary / external), and merchandise and stolen goods to properly serve all your cannabis product needs. Happy Heat's team is some of the largest brands in the industry
Create and work with. Happy heat is pleased to provide them with the most innovative and highest quality products on the market through its unparalleled manufacturing and quality standards. By ensuring lightning fast production time and first-class quality service
For all happy heat customers, you can rest assured that you are working with the absolutely best team in the medical / entertainment cannabis industry.