420 Packaging offers customized E-flute, B-flute shipping boxes, corrugated shipping boxes, corrugated shipping boxes, and cutout corrugated packaging. These printed corrugated boxes are widely used by retailers and merchandisers to deliver their products to their customers.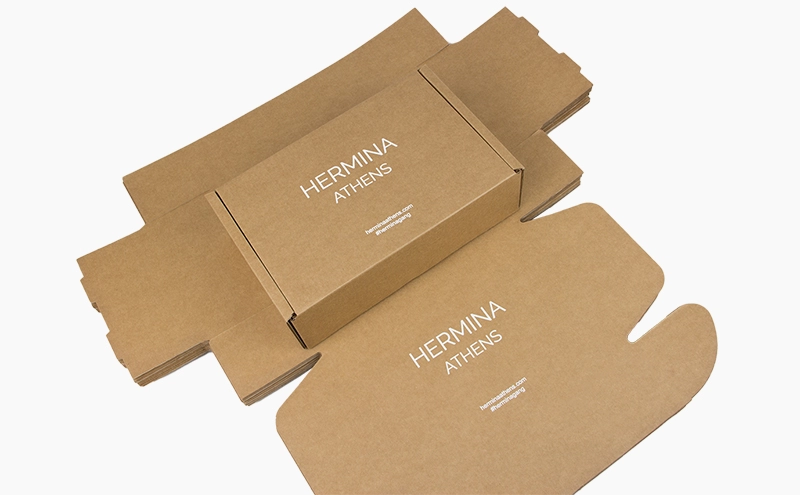 Silk Screen Printing corrugated mailer box, kraft mailer box
Corrugated Mailer Box Printing
Cardboard mailer boxes are usually either flexographic or offset printed. Screen printing is also widely used for simply printing text, lines and patterns. Flexographic printing focuses on strong mailboxes and is used for mailboxes when there are no specific printing requirements. Offset printing is usually applied when a high quality printed image is required on the surface of the box.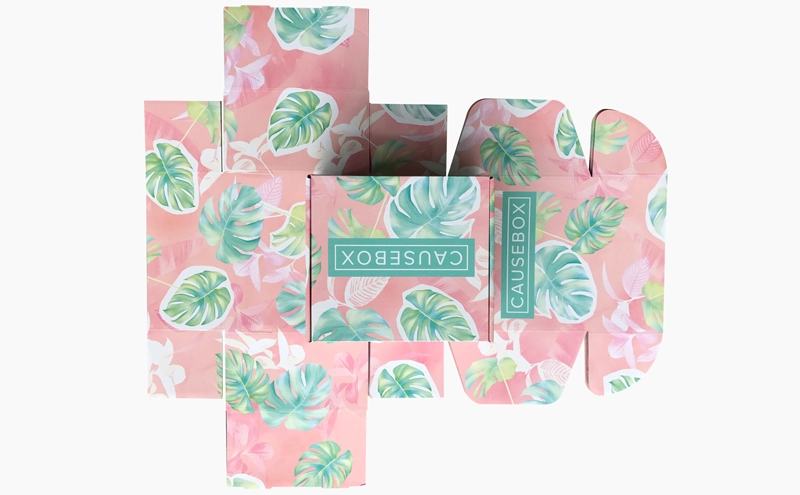 Litho Printed E flute corrugated mailer box, flat shipped corrugated postage box
Cardboard Mailer Box Finishing
Lamination and varnishing are the most commonly used surface treatments for printed corrugated boxes. Both are glossy and matte. Laminated print boxes are strong, durable and water resistant with a thin clear outer film. Lamination costs a little more than varnishing. Also, UV paint is more expensive than regular gloss paint. Mailer boxes are partially printed inside and out for a great visual effect.
Cardboard Mailer Box Style
There are two styles of boxes commonly used for mailer boxes, also known as mailer boxes, mailer boxes, mailer boxes, mailer boxes, and cartons. One of the box styles is roll end tuck top box and the other is roll end lock front box with better box closure. They are all corrugated and self-locking. Double corrugated walls on the left, right and bottom walls make the corrugated printed box very strong, very suitable and ideal for shipping and transportation by Fedex, UPS, TNT and UPSP courier companies is. Therefore, they are also called mailboxes, mailers, mailboxes, and post boxes.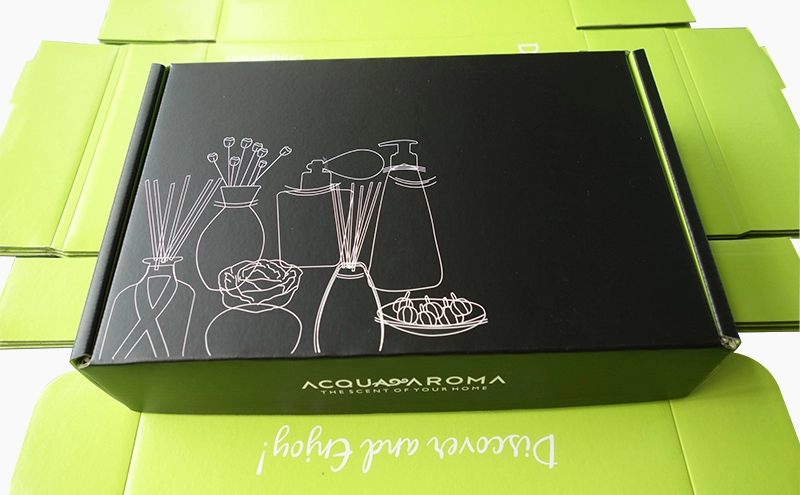 Corrugated mailer box printed inside and otuside
Also, books and photo frames are usually packaged in printed cardboard folders. This is the most cost-effective, as the requirements regarding the packaging structure of the book are less stringent.
Corrugated Board for the Mailer
B-flute, E-flute corrugated board is mainly used for corrugated mailer boxes. The thickness is 1.8mm for E-flute cardboard and 2.8mm for B-flute cardboard. Such cardboard mailers are very suitable for packaging and shipping retail products, electronic products. There may also be white inner lining inside the printed box for a better look.
Corrugated Cutout Wrap
An alternative to the roll-tuck end style cardboard mailer boxes is cut-out cardboard. This is a die-cut folder mainly used for packing books and other flat items which are usually rectangular. The cutout wrap has a flat bottom and flaps on all four sides. The flaps form the walls and lid of the mailbox. No glue is used in the manufacturing process. The shipment is uniform like a normal cardboard box.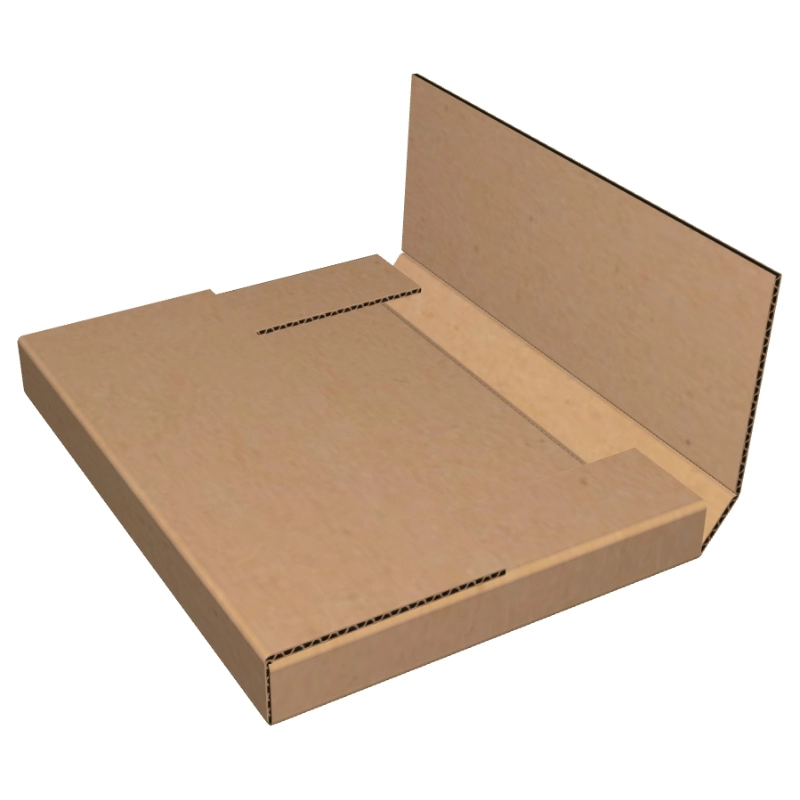 Cutout Wraps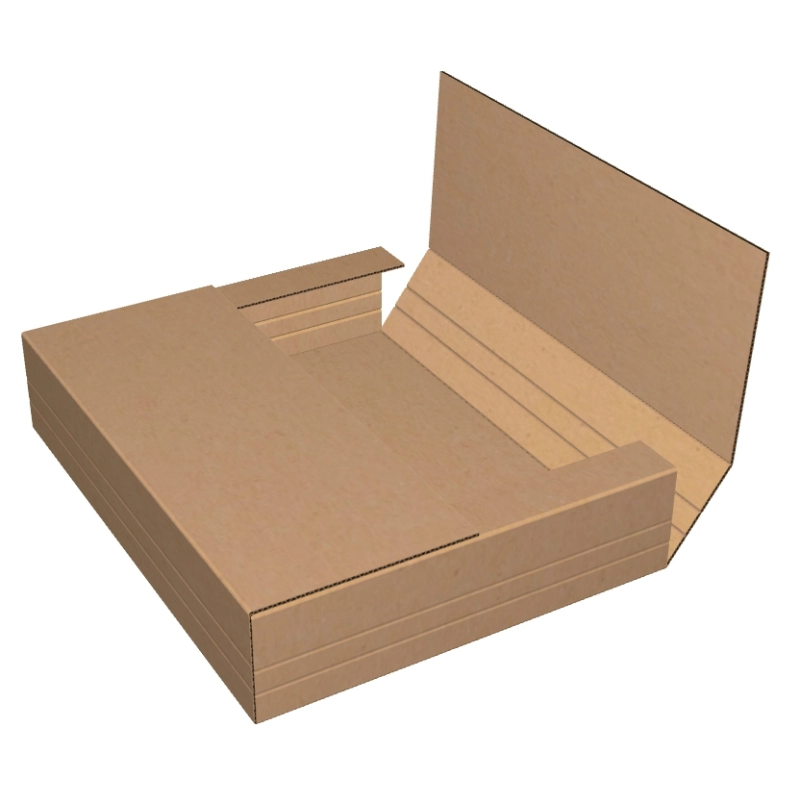 Cutout Wraps With Foldable Sides
Free Mailer Dieline Template
we can supply you the free dieline template for your designer to put the print design on the artwork. Just email at sales@winstarpackagingbox.com with the specific details of the box width, height and length. Then our design department will create the free accurate dieline for you.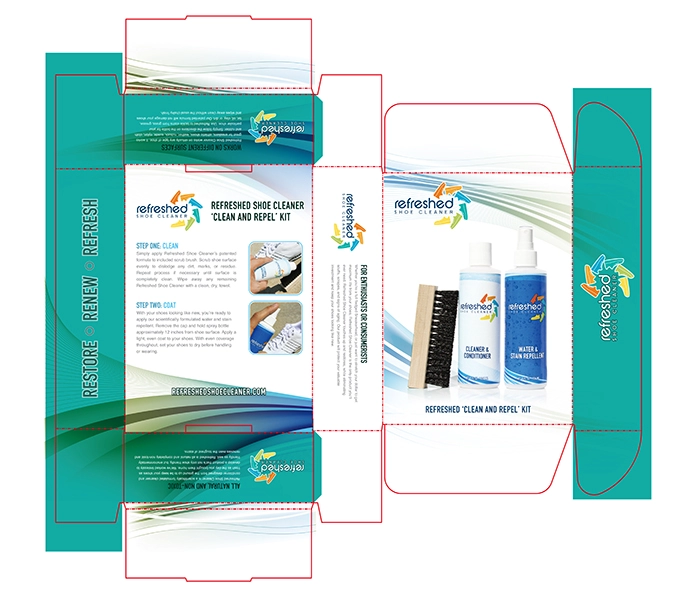 Artwork and Dieline of the Corrugated Mailer Box
Corrugated mailer boxes are used for the postage purpose because of the good strength and durability during the delivery and transportation process. They are directed sent by the courier company like Fedex, UPS, TNT and DHL. The spcial box structure makes it quite resistant to the rough handling. The E flute corrugated mailer is usually a typical E flute corrugated box. But when the mailer has a large size and extra strength is essential, it can be made of the 3mm thickness B flute corrugated box.
Some corrugated mailing boxes have just the kraft paper of the corrugated board without any printing. While most corrugated mailers or postage boxes are either flexo printed or litho printed outside. Besides the common corrugated mailer boxes printed only on one side, our client can also have a custom corrugated box printed inside and outside, which is printed on both side of the box.
Fold a Corrugated Mailer Step By Step
How to fold a cardboard envelope in 3 steps. Watch the video and follow the steps below to close the box.
Step 1:
First fold the front and back of the box. Two flaps appear on either side of these panels. Fold these flaps toward the center of the box.
Step 2:
Keeping the front and back in place, fold the side panels of the box up and place them over the front and back flaps. Insert the side panel tabs into the bottom of the box and latch.
Step 3:
Simply pull down on the box lid to close the box. Put her two flaps on each side of the top panel into the box, roll his two ears into the gaps on each side and fold the front his flaps.