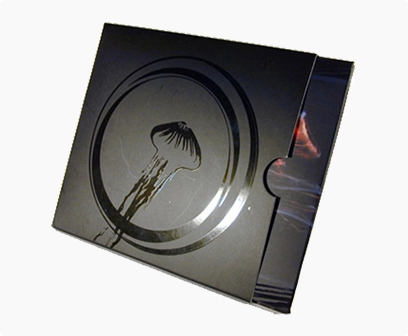 Printed Paper Box With Matte Varnishing
The box on the right is an E-flute printed box with a high gloss lacquer finish. On the left is a CD paper packaging folder with a matte finish and spot UV. Made of 24pt 400GSM SBS card stock.
Silk or Satin Finish
Satin varnish gives the surface of printed cardboard a medium finish rather than a high gloss or matte finish.
UV Varnish
UV varnishing, also known as UV varnishing, is a process that achieves a thicker, more visible type of coating on the surface of printed boxes. Printed colors look remarkably rich and vibrant. It also has the added advantage of fast drying of prints on the production line due to the UV drying process.
UV coating can be divided into two types: full-surface UV coating and spot UV coating.
Full UV Coating
Full-surface UV varnish applies UV color to the entire printing surface. High gloss levels can compete with and replace glossy laminates. At the same time, it provides excellent protective properties and a comfortable tactile sensation on the printed surface. spot UV varnish
Spot UV varnishes apply UV color only to specific points on the printed surface to emphasize specific text or images, especially logos. Brand logo spot UV varnish is widely used on luxury paper bags, boxes, gift boxes, cosmetic packaging boxes, jewelry boxes and some retail packaging boxes.
The box above is a relaminated packaging box for electronic products. Spot UV varnish is applied to the print surface to highlight the beauty of the print.
Painting Application
As a leading cannabis paper box supplier, 420 Packaging manufactures custom printed paper boxes with various coating options. Spot UV is widely used in cosmetic paper boxes.
Spot UV Printing Paper Box
Spot UV Printed Corrugated Box
Spot UV Hard Paper Box
glossy printing paper box
glossy printed cardboard box
Matt print paper box
matte printed cardboard
matte hard paper box
Difference Between Varnish, AQ Coating and UV Coating
Coating Option
There are three general types of printed packaging box protective coatings: varnishes, water-based coatings and UV coatings.
Varnishes were first introduced in the printed packaging industry because they are essentially pigment-free transparent inks. Similar to his CMYK inks in general, they are applied during the printing process. The finish can be glossy, matte or satin. Painting is usually the cheapest of all painting options available. Most paints are VOC based and not environmentally friendly. Another disadvantage of varnishing is the time it takes for the varnish to dry on the print surface.
In the late 1970s, waterborne coatings, also known as AQ coatings, were developed. Aqueous coatings are based on water with a water content of 30-40%. It is an environmentally friendly paint that does not emit VOC like paint. AQ coatings are dried by infrared radiation. The advantage is that it reduces the need for powder in the press. It is also resistant to the yellowing commonly found in lacquered boxes that are stored for some time. Ghosting issues are also typically eliminated to comply with environmental legislation.
In contrast to spot varnish (spot UV), water is usually applied to the entire plate. Water, on the other hand, often costs twice as much as paint. It also takes longer to dry than UV varnish.
UV coating is the most popular coating option for paper folding boxes as it offers the highest gloss and abrasion resistance. It starts out as a clear liquid that hardens (dries) quickly under UV light. Available in different gloss levels. The most common application is a spot UV varnish, partially applied to highlight a company's brand logo.
Coating | Purpose of Painting
There are three purposes for painting the surface of the printed paper box.
First, it better protects the ink from smudges, smudges, fingerprints, scratches, etc.
Secondly, the coating can make the printing surface of the box wear-resistant.
Third, add a glossy or matte finish to make the box look nice and attractive.